Detroit Hosts Homegrown Cannabis Career Fair, Uniting Community and Industry
November 19th, 2023 Events & Conferences
Ryan
The City of Detroit is poised to welcome individuals to the Homegrown Detroit Cannabis Career Fair, a prominent event scheduled for December 6th, 2023. This career fair, held at 1010 Antietam Avenue from 3-7 pm, is designed to serve as a bridge between the community and the rapidly growing cannabis industry.
Event Overview
Date: December 6th, 2023
Time: 3-7 pm
Location: 1010 Antietam Avenue, Detroit, MI
Opportunities for Professional Growth
The career fair is an excellent venue for professionals at any stage of their career, whether they are seasoned experts or newcomers to the field. Attendees will have the chance to meet with industry leaders, gain valuable insights, and learn about a range of career opportunities within the cannabis sector, including cultivation, distribution, marketing, and research.
This event is not only an opportunity for job seekers but also a platform for current professionals in the industry to explore new opportunities, sharpen their skills, and elevate their career trajectories. Educational sessions will be a highlight, offering deep dives into the latest trends, regulatory landscapes, and innovations shaping the cannabis industry.
Interactive and Educational Experiences
In addition to networking and learning opportunities, the fair will feature interactive exhibits. These exhibits aim to showcase the latest in cannabis technologies, products, and services, providing a hands-on experience for attendees.
Community Engagement and Support
In line with the spirit of community involvement, the Homegrown Detroit Cannabis Career Fair is dedicating efforts to support the Pope Francis Center this year. Attendees are encouraged to participate in a donation drive to assist Detroit's underserved and vulnerable populations. Contributions to the Pope Francis Center can be made directly through their Amazon Wishlist, which includes essential items needed to support health, hygiene, warmth, and dignity for those living on the streets of Detroit.
Contribution Link: https://www.amazon.com/hz/wishlist/ls/34HE6WWZDXK1W/
Join and Make a Difference
The Homegrown Detroit Cannabis Career Fair is more than just a career event; it's an opportunity to contribute positively to the community while exploring the vast possibilities within the cannabis industry. Mark your calendars for December 6th and be part of an event that offers both career advancement and the chance to make a meaningful impact in the Detroit community.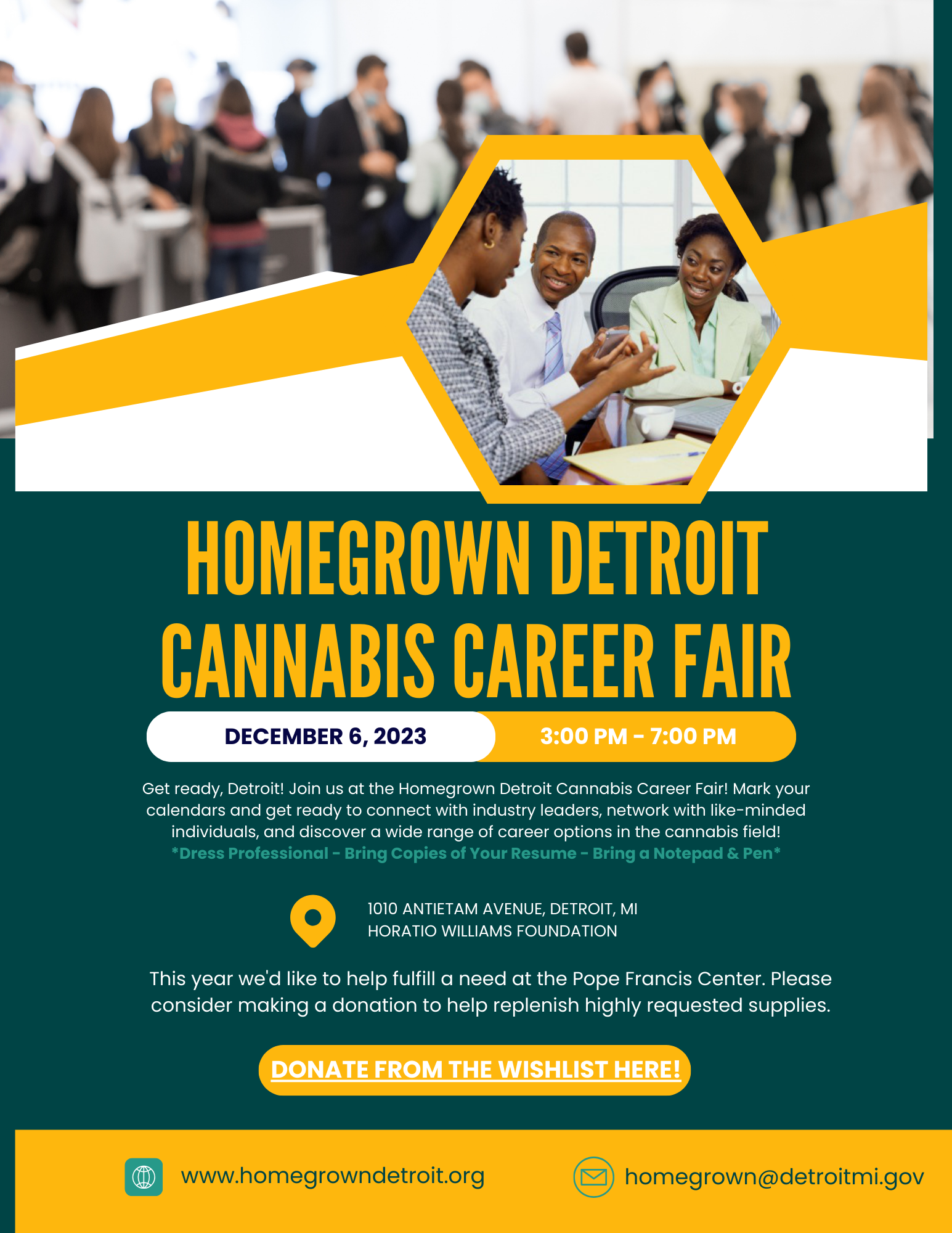 Spotted a typo, grammatical error, or a factual inaccuracy? Let us know - we're committed to correcting errors swiftly and accurately!
---
---
---
Recent Cannabis News